WE ARE OPEN!
As of 4th July, Churchwood Valley is open to both holidaymakers and private owners.
There are some differences in the way we operate – such as a limit on the numbers of people allowed in the shop and pre-booked time-slots for the laundrette. We ask everyone to strictly adhere to social distancing guidelines and there are some additional rules and protocols in place to help combat the spread of Covid-19. 
In addition, our team is taking extra steps to keep everyone safe, such as an even more stringent cleaning routine for both accommodation and public spaces, and strict hand hygiene standards at all times.
We will be closely following government and industry advice on how best to keep everyone safe while they are at Churchwood Valley.
If you would like to book, please contact us either by telephone or email. We are already extremely busy for July and August so the quicker you get in touch the more likely you are to get a summer break at Churchwood!
We are delighted to have reopened and we can't wait to welcome everybody back to Churchwood!
John, Shirley and Tom Stansell and all the Churchwood Team
---
Welcome to Churchwood Valley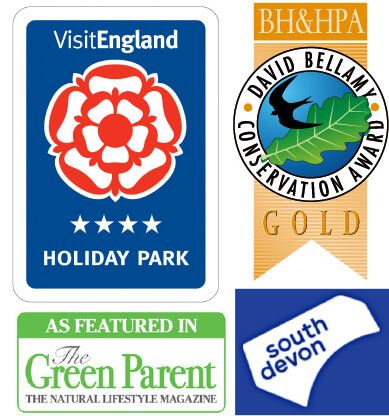 Churchwood Valley is a beautiful, natural wooded valley running down to the sea at Wembury Bay in South Devon. Look closely and, hidden among the lush green foliage, you'll see wooden cabins nestling on the hillside…
A haven of peace within an environmental paradise, Churchwood Valley is a few minutes' walk from a safe family beach and the South West Coast Path.
Away from it all…
If 'getting away from it all' is the most important part of your holiday – Churchwood Valley is for you. Each holiday cabin has its own plot on the hillside, surrounded by trees, flowering shrubs, hedges and rustic fences. By moving no further than your armchair, you'll see delightful displays of bird life, and a trip to your private patio may well afford a glimpse of badgers, foxes, squirrels and other wildlife.
Peace and tranquillity
There are no discos, bars or cafes – just rock pools, wildlife and breathtaking scenery. Secluded it may be, isolated it is not. Churchwood's licensed shop sells a wide range of food and drink, beach toys, gifts and many other products, so you don't even need to leave the site for those 'essential' items. We also have a fully equipped launderette.